Glass Visions provides a full-service low-cost option for stained glass & Mosaic related supplies, stained glass & Mosaic classes and commission & repair work available locally in the western MA and northern CT areas. We're more than happy to talk with you and answer any questions you may have about working in the copper-foil stained glass technique or Mosaics. Please select the CLASSES/EVENTS tab for more information about our available classes. Classes running monthly!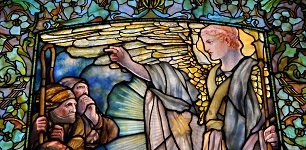 We work in many different areas of the stained glass art form with an emphasis on Tiffany inspired creations. Louis Comfort Tiffany (and his talented employees) were masters in the creation of spectacular nature-inspired stained glass objects in addition to their work in religious panels. His company's work in natural designs and creations run the gamut from nature-inspired panels (small & large) to their magnificent 3D lamp designs and their custom metal bases.

| | |
| --- | --- |
| | |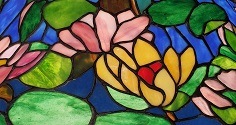 We specialize in creating high-quality Tiffany reproduction lamps based on the industry leading Odyssey system (we also offer the complete Odyssey line of molds/patterns, hardware & bases). We use beautiful art glass, top notch construction techniques and strong patina finishes that help provide a high-quality product. Our lamp prices are very reasonable for the time & effort involved, please contact us for more information. We can work with you to coordinate a specific design to your decor or we generally have pre-built lamps available for purchase. Give yourself, family or friends a gorgeous quality handmade Tiffany reproduction lamp that will be a cherised keep-sake for years to come! We also design & build panels & boxes in many configurations and artistic eras. How about updating your kitchen cabinet doors with a quality artistic stained glass design for a beautiful look! Please CONTACT US for more information regarding commission work.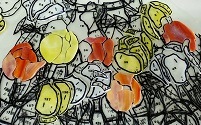 Stained glass panels, boxes and other 3D creations including stained glass lamps all share the same basic formulae for construction and all make use of today's amazingly beautiful stained glass. Although nature-inspired glass works are my first love, I'm also a big fan of many of the period pieces from many different eras including Impressionism, Victorian, Arts & Crafts, Art Nouveau, Art Deco, Prairie & Frank Lloyd Wright and many others. Yes, we're biased but we believe all stained glass creations are beautiful and show mesmerizing color and texture when high-quality build & construction techniques and glass are used. And the works show their beauty differently as the quality and color of the transmitted light various throughout the day and seasons. Stained glass is one of the only art forms that provide this differing look and this helps to seal their outstanding visual quality.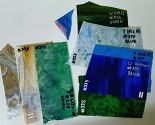 Obviously, high quality art glass is the KEY to allowing your work to shine! We offer a large amount of glass from a variety of manufacturers including both handmade art glass and machine-made glass. Just a note, we do focus on NON-FUSIBLE GLASS and the majority of Oceanside glass styles we have available are the older non-fusible Spectrum line. The stained glass world has changed quite a bit in the past few years with long-term major players like Uroboros and Spectrum closing. This has changed the playing field a bit but their glass designs are living on and are now being produced by Youghiogheny and Oceanside. Youghiogheny is now the premier handmade art glass manufacturer in the US and we have quite a bit of their glass available and we've been working with them for years. We also still have quite a bit of the older Uroboros glass available for those looking for top-end art glass. We love Wissmach machine-made art glass and find their styles, colors & textures be give great artistic options at an affordable price. We've also worked with Wissmach for many years. We have glass available from Youghiogheny, Uroboros, Bullseye, Wissmach, Armstrong, Oceanside/Spectrum and others


We also offer solder (Canfield 60/40 @ $28/roll, $25 with glass purchase), foil and most other needed supplies & equipment (i.e. Complete Line of Glass Breaking Hand Tools, Weller & Hakko Soldering Irons, Gryphon Grinders & Band Saws, Twofer Grinding Bits, Edco Foil, etc.) available at VERY LOW COST. I invite you to stop by and take a look & try out what we have to offer and/or to discuss your project ideas or issues. Just CONTACT US to make an appointment!

| | | | |
| --- | --- | --- | --- |
| Weller 100 Soldering Iron | Gryphon C-40 Glass Saw | Gryphon Convertible Grinder | Gryphon Gryphette Grinder |
| | | | |
| Hakko FX-601 Soldering Iron | Gryphon Zephyr Glass Saw | Gryphon Studio Grinder | Twofer Grinding Bits |
| | | | |
| Glass Cutters | Stained Glass Tools | | |
| | | | |
| | | | |